---
Welcome to MountRaoul.org
In memory of Raoul Wille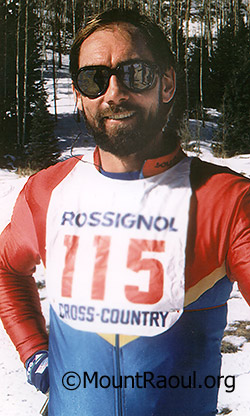 The late Raoul Wille at an Aspen area nordic race in 1992.
When Aspenite Raoul Wille died while climbing in Nepal in 1998, of altitude sickness at 45 years of age, the mountain community of the Aspen area lost one of its most inspiring, flamboyant, talented and loving individuals...
Raoul led a life of excitement, somewhat risky athletics, and just plain smiling enjoyment of mountain culture. As is common with such tragedy, it is still hard to believe this bigger than life guy is gone.
Raoul was born in Aspen, and grew up in the town as one of the community's most talented athletes. Not only did he achieve great success as a nordic ski racer in winning several titles at the Jr. Nationals during high school, but he continued to push the limits of mountain sports throughout his athletic career.
Raoul was a mountain man. As such, it is only fitting that a mountain be named after him. To that end, mountaineers in the Aspen area have taken to calling Peak 13,803 by his name.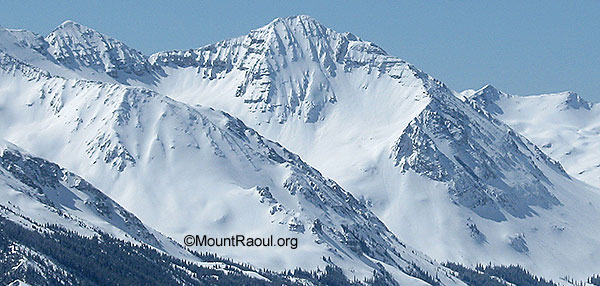 Mount Raoul in center, Castle Peak to left, as viewed from the north. Counundrum Creek drainage is lower foreground.
Mount Raoul is located about eight tenths of a mile WSW of well known 14,265 foot Castle Peak. It is Castle's western rampart, connected by a rocky ridge to the higher summit. But with its distance and saddle drop from Castle (about 400 feet), Mount Raoul has the appearance and feel of a majestic mountain in its own right.
This website is dedicated both to the memory of Raoul, as well as explicating the mountain we name in his memory.

Mount Raoul indicated by Google Map marker in map above. If desired, click this link to view Mount Raoul in a larger map. Or see our Mount Raoul details page by using menu at the top of our left sidebar.