Mount Raoul
Mount Raoul is a beautiful 13,803 foot summit in the Elk Mountains of west central Colorado. It defines the west rampart of 14,265 foot Castle Peak. This colloquial peak name is in common use, and honors Aspen resident Raoul Wille, who died while climbing in Nepal in 1998.
Summit coordinates (WGS 84):
Decimal degrees 39.00725 -- 106.87648
Degrees & Decimal Minutes 39 0.435 -- 196 52.589
UTM 337523 -- 4319256
Mount Raoul with ski and snow climb routes marked. Slowman Couloir is direct line on face. Most common climbing route is marked to left. Lower portion of Conundrum Cirque marked to right.
Summer Climbing
While infrequently climbed as a stand-alone destination, Mount Raoul is popular as a "list peak" for those seeking to climb all Colorado's 600 or more "13ers," meaning those peaks between 13,000 and 14,000 feet high.
A non-snow climb of Mount Raoul is easy by mountaineering standards, but still requires experience with high altitude and remote Colorado peak hiking. Because of loose rock, it's best to climb the peak via lower angled slopes and ridge lines. One such route, from the south, involves hiking to the head of Cumberland Basin and reaching the ridge which connects Mount Raoul with Castle Peak. The ridge is then hiked/climbed to the Mount Raoul summit. Another route, usually taken from the Conundrum Hot Springs, involves hiking into the huge basin north of the peak, then gaining the ridge via a steeper and looser area that can involve more advanced climbing skills. Still another way of reaching the summit involves climbing 14,265 foot Castle Peak from the east (Montezuma Basin), then taking a lengthy high-altitude ridge traverse west to the Mount Raoul Summit.
Ski Mountaineering and Snow Climbing
As many Colorado peaks do, Mount Raoul comes into its own as an alpine summit once blanketed with snow. With a white mantle, the mountain equals the beauty of any other alpine peak in the world, and provides a number of excellent ski mountaineering and snow climbing routes.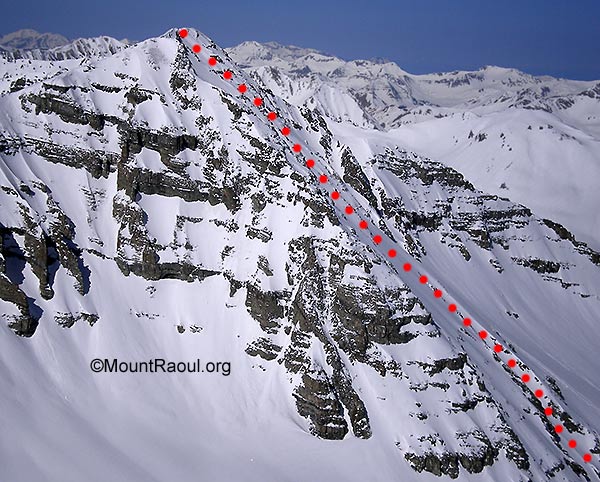 Northerly side of Mount Raoul as viewed from Castle Peak, Sloman Couloir route indicated by dotted line.
As covered above, the easiest ski and snowclimb route on Mount Raoul is probably that from Cumberland Basin. The two other "king lines" are Sloman Couloir on the north face (as indicated in photos above), and the Conundrum Cirque that rises from Conundrum Hot Springs. Any summit ski descent from the peak is extreme rated, while skiing Mount Raoul's lower flanks yields all manner of terrain.
Check out this nice trip report from a climb and ski descent in 2015.
Three strategies work for skiing the peak. One option, usually best in early spring, is to use snowmobile transport to reach Cumberland Basin from the south (town of Crested Butte) and climb from there. If you're coming from the Aspen side, you can make an aesthetic wilderness overnight of the trip by packing into Conundrum Hot Springs and working from there. Lastly, and most common, is to go from Castle Creek on the Aspen side by taking Montezuma Basin to Conundrum Saddle, dropping west, then climbing and/or skiing Mount Raoul. Map below shows the options.

View Mount Raoul in a larger map